 MONTCLAIR • FLORHAM PARK • RED BANK
#1 Rated Dermatologist on HealthGrades 🏆
Don't trust your face with just anyone.
Sperling Dermatology is the #1 Rated Derm on HealthGrades!
*$11/Unit BOTOX® | $100 OFF JUVÉDERM®*
NEW PATIENT PRICING WON'T LAST FOREVER
EXPIRES the last day of this month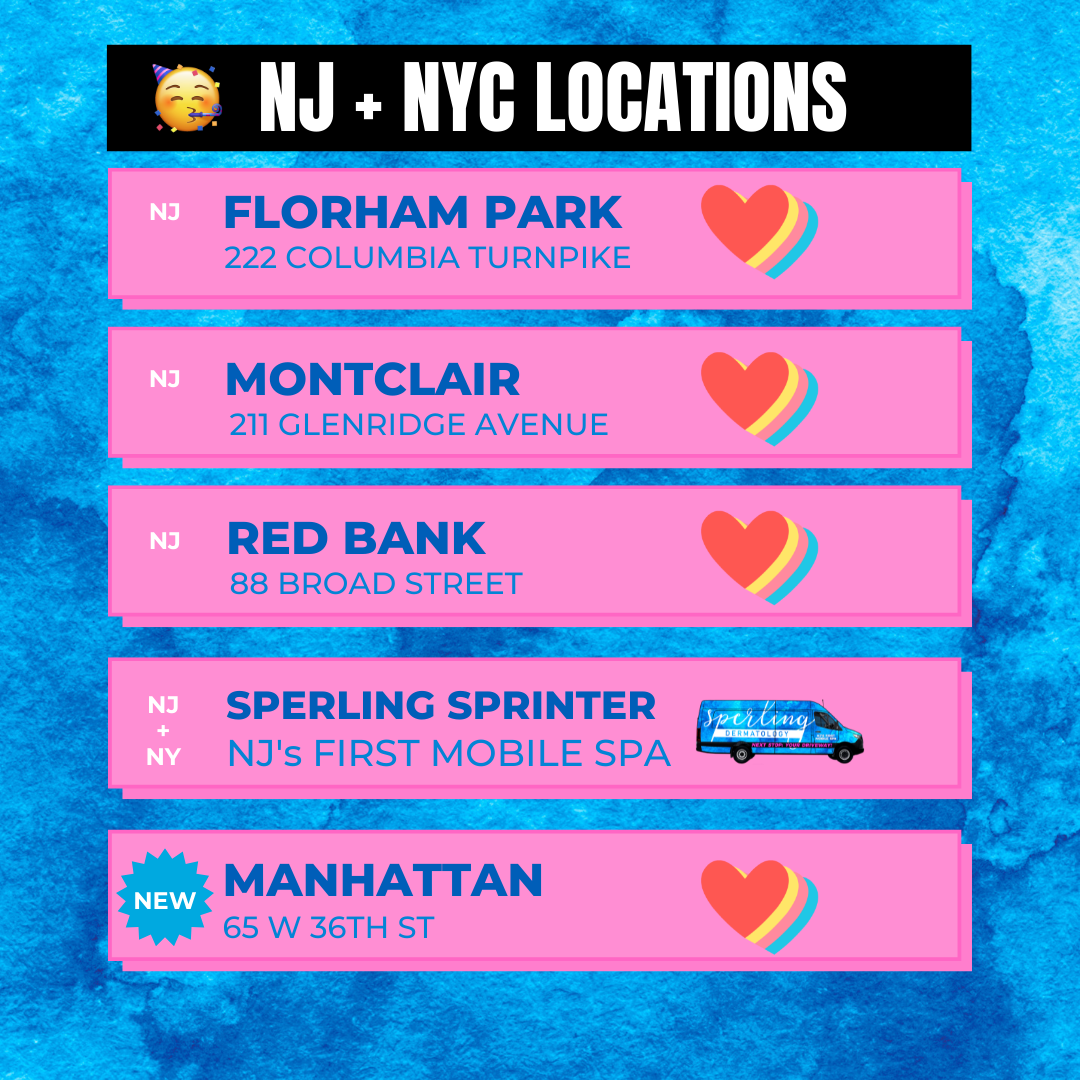 YOU'VE GOT QUESTIONS 🙋🏼‍♀️

WE'VE GOT ANSWERS 🥳
BOTOX® is an approved treatment to temporarily improve wrinkles in the forehead, glabella (also known as the "11 lines") and crow's feet for both men and women.
BOTOX® is injected into the muscles in the affected areas to prevent repeated muscle movements and squinting. BOTOX® can begin to set in anywhere between 3-7 days. BOTOX® can take up to 2 weeks to see full results. Results may last 3 to 4 months.
How Long Will BOTOX® Take?
The actual injection process takes up to 10 minutes and feels like small pinches.
What is The Recovery Time After Treatment?
There may be some slight swelling in the area treated. This will subside in about 20-30 minutes. Staying upright after treatment for 4 hours is advised. Performing any tasks that raise the temperature of the body after treatment is also not advised (i.e. exercising or tanning).
Fillers are injected into your skin to resolve wrinkles. By adding volume to the nasolabial folds (smile lines), marionette lines (from the mouth to the chin), lips, around the lips, and cheeks, wrinkles can be smoothed away.
What Are the Different Types of Fillers?
Created from hyaluronic acid that occurs naturally in the body, JUVÉDERM® is used in the nasolabial folds, marionette lines, and the lips.
Volbella is used in the lines around the lips and in the lips themselves for a subtler effect.
Voluma is effective in the cheeks for better definition in the cheekbones. Made from tiny calcium-based microspheres that are similar to minerals and naturally found in the body.
Radiesse replenishes lost volume and stimulates the production of the body's own natural collagen.
How Long Does a Filler Treatment Take?
The injection process takes about 15 minutes and can feel like a slight pinch. A topical numbing cream is applied before the injection to make the treatment more comfortable.
What is the Recovery for a Filler Treatment?
There may be some slight swelling in the treated area that can take a few days to a few weeks to subside. It is best to refrain from any medications such as Aleve and Ibuprofen that thin the blood at least a week prior to your treatment. There is also a risk for bruising after your treatment. Arnica gel or tablets (available in any health food or vitamin store) before and/or after treatment can help prevent bruising.
I'M READY! WHAT SHOULD I DO NOW?
We're so glad that you've chosen Sperling Dermatology, the #1 Rated Dermatologist on HealthGrades to help you feel, look, and be spectacular. 💃🏼
Fill out the form below 👇🏼 to redeem our best offer ever on BOTOX® and JUVÉDERM®! One of our BOTOX® and JUVÉDERM® experts will be in touch shortly to discuss your customized treatment plan and help you book your 15-minute complimentary consultation. 🎉
Montclair 🇺🇸

211 Glenridge Ave
Florham Park 🇺🇸
222 Columbia Turnpike
Red Bank 🇺🇸
88 Broad Street
Sperling Sprinter 🚐
NJ's First Mobile Spa
NEW PATIENT PRICING WON'T LAST FOREVER
*EXPIRES the last day of this month
SPERLING DERMATOLOGY CONTACT INFO
Phone: 973-800-1948
Address: 222 Columbia Turnpike
Florham Park, NJ
07932
*Sperling Dermatology is an authorized reseller of BOTOX® and JUVÉDERM®
Copyright © 2023 All Rights Reserved.